If you're stuck with leftovers this Thanksgiving, you might find some help on TikTok.
Video bloggers are coming to your rescue with recipes to use up all your leftovers after your family and friends are gone and your fridge is still full.
Not only will you save yourself some money by repurposing the old dishes, but you can do a service to the environment. Americans wasted more than 305 million pounds of food—valued at over $400,000,000—on last year's Thanksgiving feast, according to ReFED, a nonprofit working to end food loss.
So don't plan to throw anything away yet! Here are some creative ways to make new meals from those pesky leftovers.
The Turkey
If the centerpiece of your meal—the traditional Thanksgiving turkey—is more than a carcass on Thursday night, TikTok's food bloggers have you covered.
Most Delicious Life, a food blog run by mother-daughter duo Cindy and Corinne, suggested a "Thanksgiving Casserole." It's so simple that you can make it right at the table when dinner is over. All you have to do is fill a pan with mashed potatoes, topped with cut-up turkey, gravy and stuffing.
"Cover and put it in the fridge and when you're ready, throw it in the oven at 350 for half an hour, and you have a wonderful Thanksgiving casserole," said the bloggers.
If you want a nourishing alternative for the colder weather, try turkey soup. TikToker @_gloyoyo_ showed how you can make the soup from leftover turkey meat along with carrots, celery, onion and the turkey shell.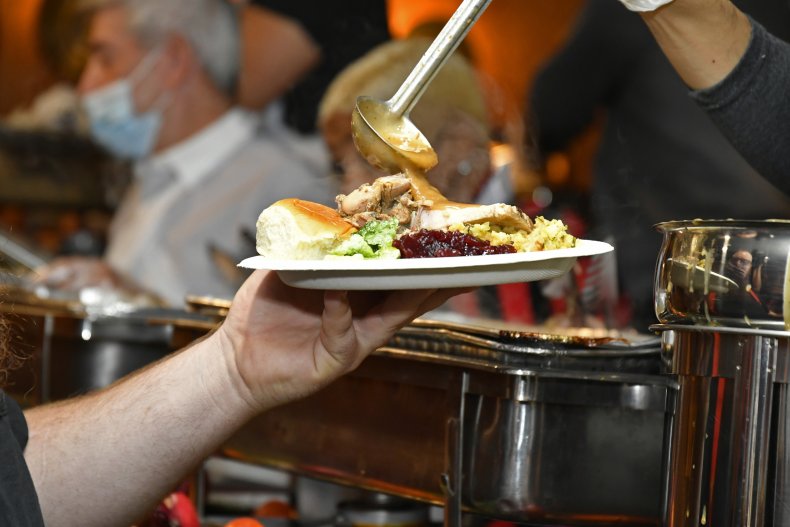 Put the carcass in a pot, fill the pot with water, then add the other ingredients with some salt and pepper, said the TikToker. Then strain the broth, cut the carrots, pick out the meat without bones and put everything back in the soup. Add in some pasta, boil it all together and voila—turkey soup!
Another option is turkey pho. My Nguyen, who runs the TikTok account My Healthy Dish, demonstrated the broth consisting of a turkey carcass, onions, ginger and spices.
She dropped a bag of spices into the pot, then added fish sauce, salt and rock sugar. After that simmered, she combined the broth with rice noodles, green onions, cilantro, bean sprouts and quail eggs. She topped the dish off with some lime and hoisin sauce.
Make It a Sandwich!
Sandwiches are among the most popular reincarnations of Thanksgiving leftovers, but perhaps you are looking for some inspiration.
Home cook Alice Choi has offered "Mini Gobbler Sandwiches." She layered all of her leftovers—shredded turkey, stuffing, roasted Brussels sprouts, mashed potatoes, gravy and cranberry sauce—in between the top and bottom buns of King's Hawaiian Rolls. On top, she drizzled an onion-Worcestershire sauce mixture.
"Bake these in the oven and end up with this deliciousness," said Choi.
TikToker Macy Blackwell showed off her recipe for ham and cranberry sliders, while blogger Meals With Mama demonstrated a Thanksgiving grilled cheese.
The Stuffing
Are you stuck with stuffing? Blogger Grilled Cheese Social has an idea you may never have considered: waffles made from stuffing, served with a slather of butter and salt.
Other TikTokers have recommended a stuffing pie and stuffing crust pizza.
Happy leftovers season!