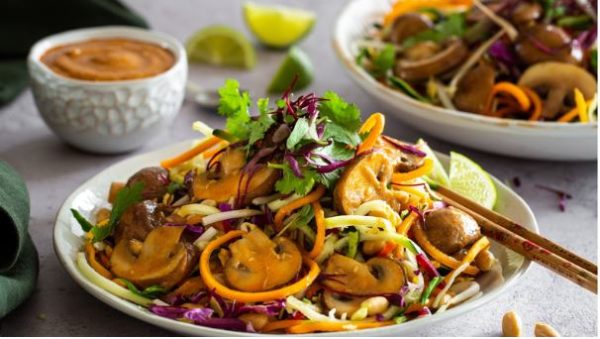 Thinking up new recipes is not easy, especially if you have a revolving door of guests coming through your home during Ramadaan.
If you are in need of kitchen inspiration, the South African Mushroom Farmers' Association has shared below their amazing recipes that you can try.
1. Raw pad Thai with spicy sautéed mushrooms
Serves: 4
Ingredients
Peanut dressing
¼ cup peanut butter
2 tbsp soy sauce
2 tbsp maple syrup
2 tbsp rice vinegar
2 tbsp fresh lime juice
1 tbsp sesame oil
1 clove garlic, finely grated
1 tsp fresh ginger, finely grated
500g portabellini mushrooms, sliced
2-3 tbsp olive oil
1 tbsp sriracha, sambal oelek, or any similar hot sauce
¼ purple cabbage shredded finely
4 carrots, peeled and julienned or spiralised
2 large courgettes, julienned or spiralised
1 red chilli, seeds removed and thinly sliced
4 spring onions, thinly sliced
½ cup coriander leaves
½ cup bean sprouts
½ cup roasted salted peanuts, roughly chopped
Fresh lime wedges, for serving
Method
For the dressing
Place all the ingredients in a bowl and whisk.
Add a splash of warm water if you'd like to thin it out slightly.
Taste to adjust any seasoning and set aside.
Heat olive oil in a large frying pan and sauté the mushrooms on high heat until lightly golden.
Remove from the heat and drizzle with a little of the peanut dressing and the spicy chilli sauce. Toss to coat.
In a large mixing bowl add the cabbage, carrots, courgettes, chilli, spring onions, and coriander. Add a little drizzle of dressing and toss.
Add the mushrooms and mix everything well.
Plate the salad and sprinkle it with bean sprouts and peanuts. Serve with chunky lime wedges.
2. Mushroom and mince bobotie
Serves: 6-8
Ingredients
750g mushrooms (portabello, portabellini, or button)
500g beef mince
1 large onion, diced
4 cloves garlic, minced
2 tbsp curry powder
1 tsp turmeric
1 tbsp sherry vinegar
1 tbsp Worcestershire sauce
½ cup fruit chutney
⅓ cup raisins
Olive oil
Salt and pepper, to taste
Topping
3 large eggs
300ml milk
3-5 bay leaves
Salt and pepper, to taste
Method
Preheat the oven to 180˚C.
Cut mushrooms into smaller pieces if necessary and then place them into the bowl of a food processor. Process in batches until finely chopped.
In a large frying pan (or oven-safe cast iron or buffet casserole) heat a drizzle of olive oil. Fry mushrooms until completely dry and turning golden brown. Fry in batches if necessary. Set aside in a bowl.
To the same pan add the beef mince and fry until beginning to brown. Add the onion, garlic, curry powder, and turmeric. Cook until tender and fragrant.
Add the cooked mushrooms back into the mince mixture.
Add in vinegar, Worcestershire sauce, chutney, and raisins. Adjust seasoning.
Level out filling in an oven-safe dish or transfer to an oven-safe dish.
Whisk together the topping ingredients and season.
Gently pour egg custard onto the top of the mushroom and mince the filling. Scatter with bay leaves and bake for 45-60 minutes until set and deeply golden brown.
Serve bobotie with sambals and yellow rice.
3. Mushroom risotto cake
Serves: 8
Ingredients
2 tbsp butter, plus extra for greasing the tin
2 tbsp olive oil
1 large onion, finely chopped
Handful of fresh thyme sprigs
2-3 rosemary stalks
4 cloves garlic, minced
350g or 1 ½ cups Arborio rice
1 litre mushroom or vegetable stock
3 tbsp olive oil
500g mixed cultivated mushrooms, sliced
2 extra large eggs
80g Parmesan cheese, grated, plus extra for serving
150g smooth ricotta cheese
Salt and pepper, to taste
Method
Heat olive oil and butter in a medium Dutch oven or deep frying pan.
Cook the onion with the thyme and rosemary until tender. Do not brown.
Add the garlic and cook for one minute until fragrant.
Stir in the rice and coat it well in olive oil and butter. Toast the rice for a minute until the edges are translucent.
Add the stock, one ladleful at a time, allowing each ladleful to be absorbed before adding the next. Keep stirring the risotto and adding stock until the rice is creamy and tender.
Season to taste.
Spread the risotto out onto a baking tray to cool. Discard the herb stems.
Preheat the oven to 180˚C.
Lightly butter a 22cm springform tin.
Working in batches, pan fry two-thirds of the sliced mushrooms in olive oil until golden brown. Season lightly.
Remove from the pan and cool on a baking tray.
In a large mixing bowl lightly beat the eggs and add the parmesan and ricotta. Mix well.
Add the cooled risotto and mix.
Fold in the mushrooms.
Spoon the risotto mixture into the greased tin and level the top.
Bake for 25-30 minutes until golden brown on top.
Cool for 10 minutes.
Pan-fry the remaining mushrooms in a little olive oil until golden brown.
Season lightly.
Remove from the tin and plate the risotto cake onto a serving platter.
Top with the freshly cooked golden brown mushrooms, a shower of Parmesan, and some freshly ground black pepper.
Slice into wedges and serve with a green salad.