Orange-glazed cranberry cream cheese loaf is one of Renee Kohlman's favourite holiday recipes.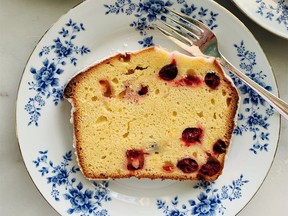 The long stretch of days after the first of the year can be a bit of a slog.
It's like as soon as the calendar flips you're supposed to be on a new diet plan, setting goals for self improvement, and you better not be in your pajamas until noon. That was so last month. There are things to do, chop chop!
Saskatoon StarPhoenix Afternoon Headlines
We deliver the local news you need in these turbulent times on weekdays at 3 p.m.
By clicking on the sign up button you consent to receive the above newsletter from Postmedia Network Inc. You may unsubscribe any time by clicking on the unsubscribe link at the bottom of our emails or any newsletter. Postmedia Network Inc. | 365 Bloor Street East, Toronto, Ontario, M4W 3L4 | 416-383-2300
Alas, let's all relax a little, OK? These things can happen at any time of year, not just immediately after New Year's Day. Sure, there is no longer any evidence of the holidays in my house and, from what I can tell, the tinsel has been all sucked away in the belly of the vacuum. But I'm holding on tightly to those feelings of rest and relaxation. Of course there is work to be done, but I don't begrudge myself the time set aside for reading, or staring out the window catching the birds in mid-feast.
And, just like any other time of year, I want to bake delicious things to eat. All of those ads for detoxing and cleansing nonsense are ignored and given a giant eye roll. I don't need any company telling me that I'm not good enough the way I am right now. Pass the butter and sugar. Hand me the eggs. Let's sift the flour. There is magic to be made.
This is a favourite recipe from my first cookbook, All the Sweet Things, that I always make around this time of year. Sometimes it's before Christmas and sometimes it's after — depending on whether or not I need to use up a bag of cranberries.
Everyone who tasted a corner of this bread while I was testing the recipe hunted me down afterwards and asked what in the world was in it. When I said cream cheese, all was clear. Cream cheese works magic in baked goods, adding fat and moisture as well as that signature bit of tang. Combined with cranberries and a pretty orange glaze, this bread is wonderful to serve over the holidays and makes a delicious edible gift.
It's also delicious in January, when you need a little something sweet to chase away the winter blahs. And it's a great way to use up that half a bag of fresh cranberries that are getting a little soft. The sweet orange glaze not only looks attractive, but also camouflages any parts that may get overly brown. I prefer this bread the next day, after the flavours have melded and mingled, and it goes just smashingly with a cup of tea.

Orange-Glazed Cranberry Cream Cheese Bread
1 cup unsalted butter, softened, plus more for greasing the pan
1 cup cream cheese, softened
1 1/2 cups granulated sugar
1 1/2 tsp pure vanilla extract
4 large eggs, at room temperature
1 tbsp grated orange zest
2 cups all-purpose flour
1 1/2 tsp baking powder
1/2 tsp salt
2 cups fresh or frozen cranberries
1 1/4 cups icing sugar
2 tbsp fresh orange juice
Pinch of salt
1. Preheat the oven to 350°F. Place the rack in the bottom third of the oven. Line a 9×5×3-inch loaf pan with parchment paper overhanging the edge. Lightly butter the paper.
2. In a stand mixer fitted with a paddle attachment, beat the butter, cream cheese, sugar and vanilla on high speed until creamy, about three minutes. Beat in the eggs, one at a time, being sure to scrape down the sides and bottom of the bowl after each addition. Beat in the orange zest. Combine the flour, baking powder and salt in a medium bowl. Turn the mixer to low speed and slowly mix the flour mix into the batter until just combined. Fold in the cranberries by hand.
3. Scrape the batter into the prepared loaf pan and bake for 75-90 minutes. The bread will likely get quite brown, so cover it with aluminum foil at the 50-minute mark, or sooner if you notice it getting dark. The bread is done when a toothpick inserted in the centre comes out clean and the top is puffed and golden brown. Remove the pan from the oven and let the bread cool in the pan on a wire rack for 15 minutes before removing it from the pan to cool completely on the rack before glazing.
4. To make the orange glaze, whisk together the icing sugar, orange juice and salt in a medium bowl until smooth. Slowly drizzle the glaze over the bread and let it firm up before slicing.
5. The cranberry orange bread keeps well refrigerated for up to four days when wrapped in plastic or in a resealable plastic bag. You can also freeze it without the glaze for up to two months. Makes one loaf.
Recipe from All the Sweet Things by Renée Kohlman (TouchWood Editions, 2017).

The news seems to be flying at us faster all the time. From COVID-19 updates to politics and crime and everything in between, it can be hard to keep up. With that in mind, the Saskatoon StarPhoenix has created an Afternoon Headlines newsletter that can be delivered daily to your inbox to help make sure you are up to date with the most vital news of the day. Click here to subscribe.