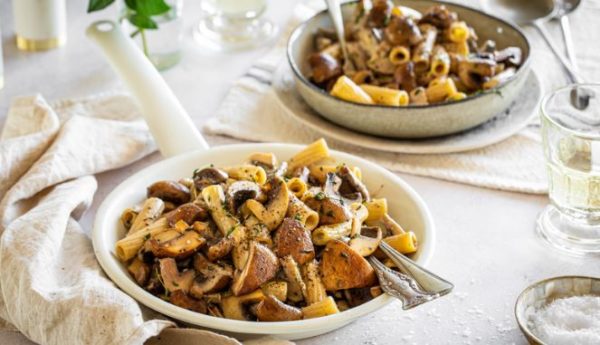 Cooking a delicious and cosy meal is the best way to get through the cold winter season.
If you have run out of ideas for your next meal, below are easy, tasty, and nutritious dinner recipes that you can try at home, courtesy of the South African Mushroom Farmers' Association.
1. Umami mushroom rigatoni
Serves: 4
Ingredients
250g rigatoni pasta (or another similar short pasta)
4 large portabello mushrooms
250g portabellini mushrooms
2 tbs olive oil
2 tbs butter
1 large bunch of fresh thyme
4 garlic cloves, minced
2 tbs soy sauce
½ cup crème fraîche
Salt and pepper, to taste
1 lemon, cut into wedges
Method
Cook rigatoni in boiling salted water, until al dente.
Reserve 1 cup of pasta cooking water and drain the pasta.
While the pasta is cooking, scrape out the black gills from the underside of the portabellos with a teaspoon. Cut each portabello in half and then cut each half into four chunky wedges.
Slice portabellinis into quarters.
Heat oil and butter in a large cast iron pan over medium-high heat.
Add garlic and cook, stirring constantly, until fragrant.
Add mushrooms and thyme.
Cook mushrooms, tossing them often until just tender and golden brown.
Pour in the soy sauce and cook until absorbed.
Turn the heat down.
Stir in the crème fraîche, salt, pepper, and a splash of pasta water.
Add cooked pasta and toss gently to coat in the mushroom sauce.
Keep adding pasta water as needed to achieve a silky, shiny sauce.
Serve pasta with a squeeze of fresh lemon juice and extra freshly ground black pepper.
2. Curried mushroom naan pizza with roasted garlic and chilli
Makes 4 naan pizzas
Ingredients
4 naan breads
1 whole head of garlic
250g portabellini or button mushrooms, sliced
1 tin crushed tomatoes
4 tsp curry powder
300g bocconcini or fior di latte fresh Mozzarella
1-2 fresh chillies, sliced
Olive oil or ghee, for cooking
Salt and pepper, to taste
Diced tomato and onion, for serving
Fresh coriander, for serving
Method
Preheat the oven to 180˚C.
Slice the top third of the head of garlic off. Place on a square of tinfoil. Drizzle with a little olive oil and season with salt. Wrap up the garlic tightly and place in the oven for 1 hour.
After an hour remove the garlic from the oven and squeeze the roasted cloves out of their skin.
Heat a drizzle of olive oil in a frying pan and fry the mushrooms with 2 teaspoons of curry powder.
Season and set aside in a bowl.
In the same pan add the remaining 2 teaspoons of curry powder, toast spices for a minute, and then add the tin of crushed tomatoes. Cook the tomatoes down until they reduce to a thick sauce. Season.
Toast the naan bread in a hot dry pan until both sides are crisp.
Place naan bread on a baking tray and begin assembling the pizzas.
Spread a small amount of the curried tomato sauce on each naan. Top with roughly torn pieces of Mozzarella, spiced mushrooms, fresh chilli, and roasted garlic.
Roast them in the oven until the cheese is bubbling and golden brown.
Top pizzas with diced tomato and onion salsa and fresh coriander. Slice and serve.