Singapore's hawker scene has been undergoing a shift in recent times. While there are youngsters willing to brave the notoriously laborious trade, there are also certain traditional dishes that are gradually vanishing as they are just too tough to prepare.  
Like kway chap, which is delicious but requires many hours of prep work. This ranges from the hawker washing the pig's intestines by hand (a chore which takes several hours to do) to the simmering of braised ingredients. 
Phua Gek Sia, 70, has been running his popular To-Ricos Kway Chap stall for the past 40 years. He started at the defunct Blanco Court building, which was known for its food court with many lauded stalls, and later moved his operations to Old Airport Road Food Centre.  
The father-of-five, whose kids' ages range from 30s to 50s, is now looking to retire and pass his business to the next generation. 
"There's nobody to take over, but it's a pity to close my stall when I have a good customer base. I have been working as a hawker for 40 years, and I'm tired. I want to find someone to invest in my business and sell my recipes," he shared.  
Although his children help him out on an ad-hoc basis, including running a stall at Ci Yuan hawker centre that has since closed due to a rental dispute, Phua points out that his children have their own careers to tend to. 
"They run their own businesses and their careers are going well, so I told them to focus on their work and not be a hawker. I work such long hours, and we don't get days off on weekends. Young people now want their weekends work-free," he said. 
FINDING A BUYER FOR RECIPES 
According to Phua, he's not giving an asking price upfront for his recipes and brand. "I don't even know how much they are worth," he chortled. 
But he expresses his hope that a relevant business, like a pork distributor, might scoop up his recipes. "They'd know what to do with it. It's hard to find good offal and pork these days 'cause you have to pay a lot to get it," he shared.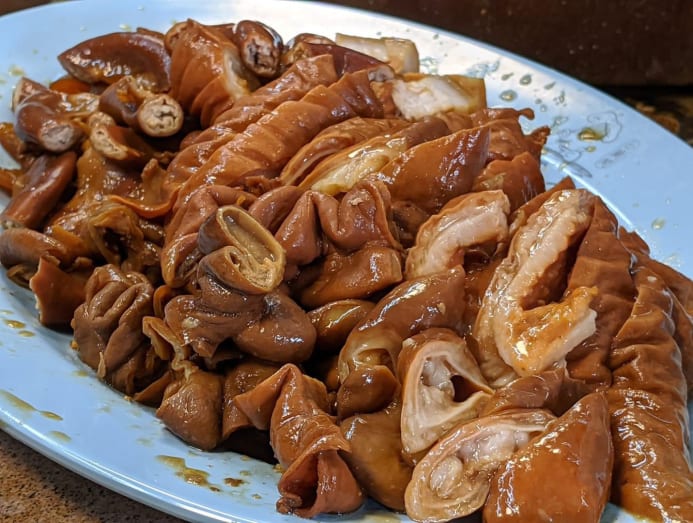 HOPES TO RETIRE AT 75 
But in the event that there's no buyer, Phua says he will continue to work, albeit with reduced hours. "If a university grad works in this job, they won't last long. They don't know how tough it is," he laughed. "I work 14 to 15 hours a day, and it used to be 16 to 18 hours when my kids were young." 
He also owns another dessert stall called 51 Soya Bean at Golden Mile Food Centre, which is run by hired staff. If all goes well, Phua intends to spend his semi-retirement doing light work at his tau huay stall. 
He highlighted: "It's easy to hire staff for that stall. You just pull up the shutter and start selling. But not for my kway chap. The work is more challenging. Although young people are more economical with their time now, they still say work is tough. I don't know how to help them (laughs)." 
To-Ricos Kway Chap is at 51 Old Airport Road, #01-135, Old Airport Road Food Centre, Singapore 390051. Open Tues-Sun, 10.30am to 2.30pm.
This story was originally published in 8Days.