Recipes
Lemon drizzle and blackberry crumble cakes to warm you up in the cold
Pastry chef Shane Smith shares some seasonal baking recipes to liven up the shorter days.
IT'S THAT TIME of year again when the clocks have fallen back, the Halloween sweets have been all but scoffed and no one, absolutely no one wants to hear fireworks or the phrase, 'trick or treat' again for another year.
There's always a little adjustment with the changing of the clocks. You think it won't affect you, but suddenly, you're awake earlier than usual and cannot keep your eyes open by 8pm. Cruel, really, but the darker days do bring with them a certain cosiness and maybe instead of diving into that bowl of teeth-wearing gobstoppers, you could turn your hand to some home baking? What could possibly go wrong, you pop it into the oven and at the very least, you'll get to enjoy a nice cuppa knowing you've made your own cakes.
So, to help you on your way, here are a couple of nice seasonal recipes that are simple and tasty and won't wreak havoc with our fillings. Enjoy! 
Lemon Drizzle Loaf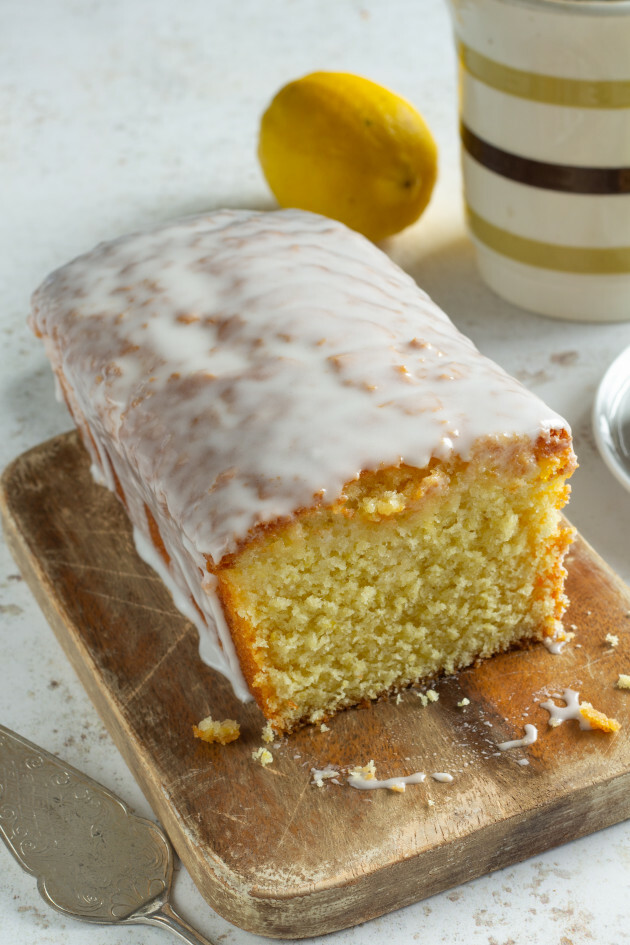 ChefShaneSmith


ChefShaneSmith

Makes: 1 x 2lb cake
Prep: 20 mins
Bake: 65-70 mins
Ingredients
220g caster sugar
2 lemon zest
3 large eggs
110ml cream
150g plain flour
30g cornflour

1.5 tsp baking powder
65ml vegetable oil
Soaking liquid
25ml lemon juice
30ml water
55g caster sugar
Icing glaze
150 icing sugar
20ml water
Method
Preheat your oven to 160C fan.
Grease and line a 2lb loaf tin.
Into a bowl, add the sugar, zest, and eggs and whisk on full speed for 4-5 minutes.
To this add the cream and mix.
Sieve in the flour, baking powder, and cornflour, carefully fold through.
Finally, add the oil and mix.
Spoon this into the prepared tin and bake in the centre of the preheated oven for 65-70 minutes or until a skewer inserted comes out clean.
To make the soaking syrup, simply heat all the ingredients in a saucepan until the sugar has dissolved.
Spoon this syrup over the warm cake and allow it to soak in.
Once cold, whisk together the icing sugar and water to create a thick icing.
Spoon this over the cold cake and allow it to drip down the sides.
Enjoy!
Apple blackberry crumble cake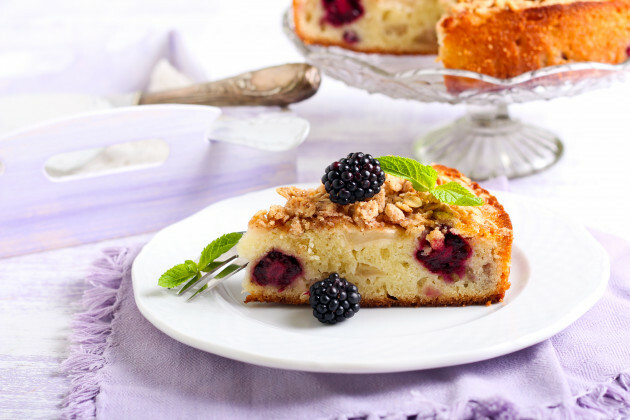 Shutterstock / MShev


Shutterstock / MShev / MShev

Serves: 8-10
Prep time: 30 mins
Baking time: 60 mins
Crumble topping
60g plain flour
40g cold butter
30g caster sugar
30g flaked almonds
Cake 185g butter, room temp
185g caster sugar
3 medium eggs
dash vanilla
185g self raising flour
1 tsp cinnamon
1/2 tsp ground clove
75g ground almonds
50g sour cream
200g diced apple, raw
200g fresh blackberries
Method
For the crumble mix, add the flour, butter & sugar into a bowl, and with your fingertips, mix until you reach a sandy texture.
Add the almonds, mix and set aside until needed.
For the cake, preheat your oven to 180C/160C fan.
Line the base of an 8" round loose bottom cake tin with parchment paper. Grease and dust the tin and set aside. For the cake batter, into your mixing bowl, whisk the butter and sugar. Gradually add the eggs and vanilla, mixing between each addition.
Add the sour cream, ground almonds. Finally, sieve in the flour and spices. Spoon this cake batter into the prepared tin and level out.
Sprinkle the diced apple & blackberries over top and then the crumble.
Pop this into the preheated oven and this will bake for 60/70 minutes or until a knife inserted comes out clean.
Remove once baked and allow to cool slightly before removing from the tin. Best served with a side of whipped cream, Ice-cream or custard.
Shane Smith has nearly 22 years' experience working in some of the world's most celebrated pastry kitchens across the globe. Over these years he has received numerous award from "Best Bakery Manager in Ireland"-Shelf life magazine to "The top 10 best pastry chefs in Ireland" Food & Wine Magazine. Shane is running series of 'Unleash your Inner Baker' courses on Zoom, for more see here and @ChefShaneSmith on Instagram.