Spicy cold tofu may very well be the quickest recipe I know. I've made myself numb to the "prep time" and "cook time" I see at the tops of most recipes–it's rather subjective to the maker's skills and experience, and it's particularly offensive when a recipe claims to take 15 minutes and it really takes an hour. Suffice to say, I was fully suspicious to see a claim of 10 minutes. I'm happy to tell you, this dish is not only flavorful, it's fun to eat, and truly takes about 10 minutes, or less, even if you suck at chopping.

What is spicy cold tofu?
Spicy cold tofu is a dish composed of a whole block of tofu covered in a robust sauce and chopped herbs. From there, the variations begin. Depending on what flavors are preferred, or which country the chef is from, this dish is wonderfully flexible and has numerous names. Silken tofu is usually used, straight from the package, but there are some recipes that use firm tofu and pan-fry the sides first. Some recipes use spicy chili oil as a component in the sauce, and others lean sweet or sour with added ingredients.
How do you make spicy cold tofu?
Although you could use firm tofu, silken offers an unparalleled experience. Get yourself a block of silken tofu for this. It's widely available these days in most big grocery stores, usually right next to the packages of firm tofu. This recipe comes together so quickly, it makes more sense to prepare the components in reverse order from how you plate it. Finely chop scallions into thin rounds. Roughly chop a sprig of cilantro. The hard part is done. Phew.
Add the sauce ingredients to a small pot over medium-low heat. Stir to mix the ingredients, for one to two minutes, until hot and simmering. Turn off the heat. About five strenuous minutes have passed at this point. Hang in there.
---
Here are some of the key ingredients I used:
---
Open up the package of silken tofu and invert it onto a plate. Slice widthwise into planks. No need to be perfect, they're going to be covered in sauce and broken later. Pour the sweet, umami-heavy, salty, spicy sauce over the tofu. Use all of it even if it seems like a lot. Sprinkle the chopped cilantro and scallion over the sauce. Serve with rice or alongside any meal.
I used this liangban dofu recipe from The Wok's of Life as my anchor point, and modified the sauce according to what I had available to me in the grocery store and in my fridge. I had soy sauce and sesame oil, but I couldn't find any spicy bean paste. All I could find was Kikkoman black bean sauce with garlic, so I grabbed that. However, that sauce wasn't spicy, so I added a dose of the ground chili and garlic sambal. It was a great choice.
The fun part, as usual, is the eating. In this case, once you serve the dish, you get to mix the tofu with the sauce and toppings. Silken tofu is so delicate that as soon as you start tossing, everything starts breaking into bite-sized pieces. The sauce seems like it will be overpowering, but once you mix it amongst the tofu it all makes sense. Each bite is perfectly balanced. The tofu is cold and slippery in a way that feels like soft noodles. The scallion bits are crunchy, and the sauce adds the perfect amount of rich, earthy, savory flavors. After the feeling of cold dissipates, the heat arrives.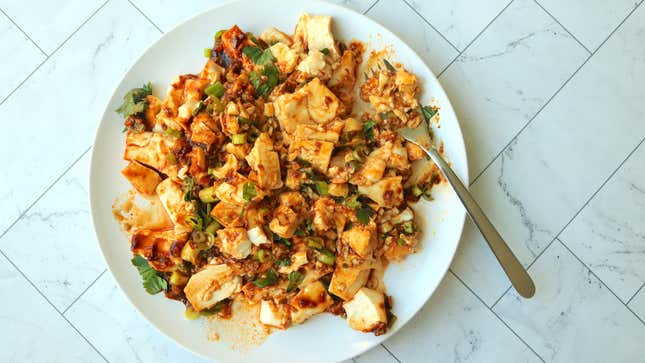 This is the recipe I ended up making, and I wouldn't change a thing. Actually, next time I would add fried garlic to the top just for extra crispy texture and even more garlic flavor. Feel free to adjust the spice level, or even serve it on the side if you have a variety of preferences (or children) in your household. I used sambal, but chili crisp, salsa macha, or even just plain chili flakes would be great.

Spicy Cold Tofu
Ingredients:
2 tablespoons soy sauce
1 tablespoon black bean sauce with garlic (I used this one.)
1 teaspoon toasted sesame oil
1 teaspoon chili and garlic sambal
1 teaspoon sugar
2 big cloves garlic, minced
2 scallions, sliced into small rounds
1 sprig cilantro, roughly chopped
16 ounce package of silken tofu
Fried garlic (optional)
In a small pot, over medium-low heat, add the soy sauce, bean sauce, sesame oil, and sugar. Stir, and cook until simmering. Add the garlic and sliced scallion whites, stir, and turn off the heat immediately.
Place the silken tofu on a serving plate, and cut it widthwise into short planks. Pour the sauce over the top of the tofu and sprinkle with the cilantro, sliced green scallion, and fried garlic.