But as the news of Japan's discharge of radioactive wastewater reached China last month, diners canceled their reservations in droves, and Zhang began to panic. "I've done everything I can to keep the business afloat, but for now I feel like there's no end to the backlash," he told The China Project.
Like Zhang, many owners of Japanese restaurants across the country are grappling with a public relations problem at the moment. The crisis began two weeks ago when Tokyo started releasing more than 1.5 million ton of tainted water used to cool damaged reactors at the Fukushima Daiichi nuclear power plant, the site of the second-worst nuclear disaster in history, which was stricken by a massive earthquake and tsunami over a decade ago.
Although Japanese authorities promised that the wastewater, which contains a radioactive isotope called tritium and possibly other radioactive traces, would be sufficiently diluted before being discharged into the Pacific Ocean, the decision has brought backlash from its neighboring countries like South Korea, where protests have erupted in opposition to Japan's controversial move.
In response, the Chinese government announced on August 24 that it would immediately broaden a ban on seafood imports to include all of Japan instead of only 10 prefectures, while condemning the wastewater release as "extremely selfish and irresponsible."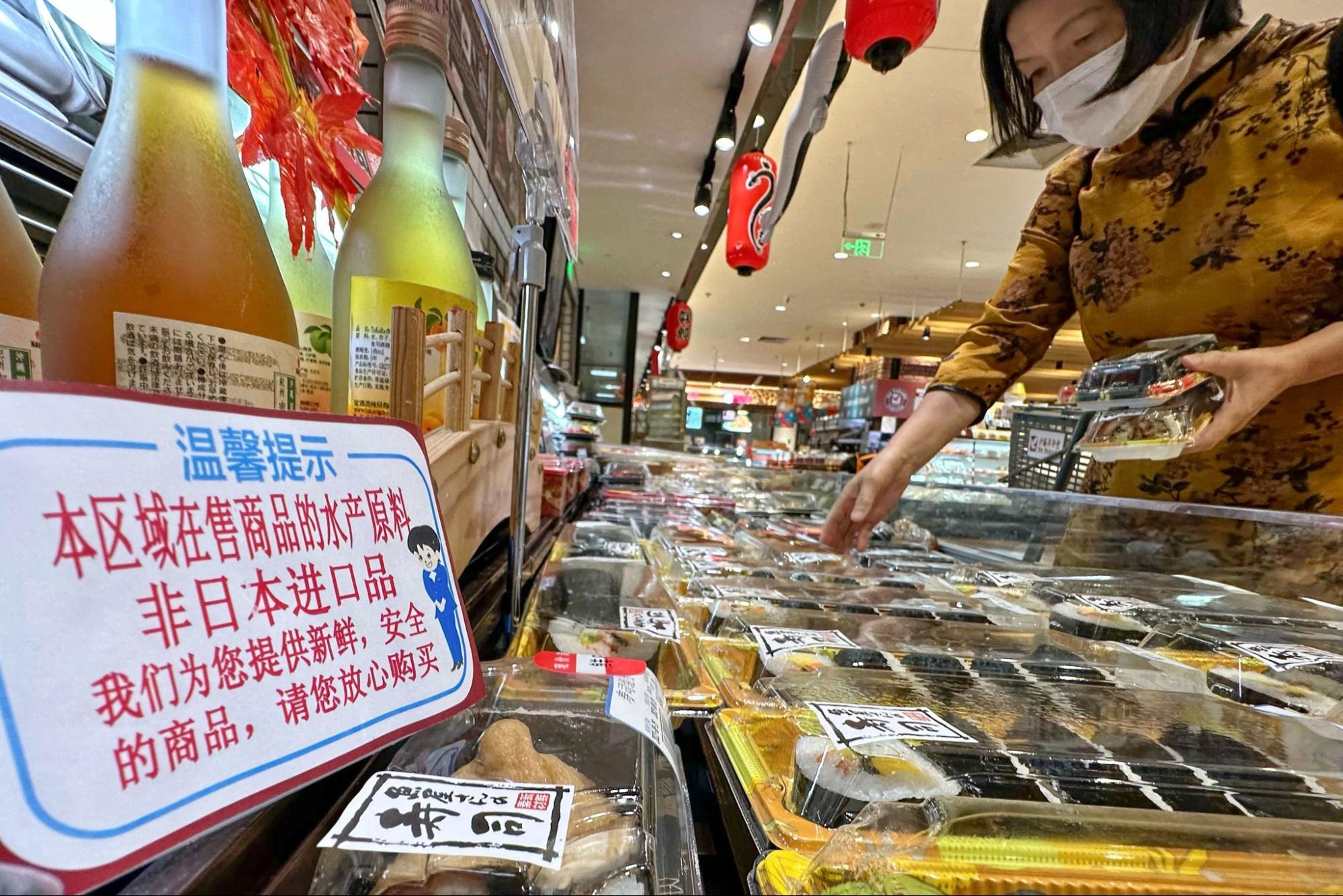 Since then, business fell more than 50 percent, Zhang revealed, attributing the drop in customers to not only worries about food security, but also a patriotic fervor fueled by an anti-Japanese campaign in state media. On Chinese social media, enraged customers have been calling for boycotts of Japanese products, from skincare products to everyday household goods. Some customers wrote that they had returned Japanese-made cosmetics and goods they previously purchased while seeking recommendations for domestically produced substitutes.
Some in the business of Japanese cuisine were quick to react. Cūnshàngyīwū 村上一屋, a chain restaurant focusing on Japanese food that's popular in the northern part of China, wrote on Weibo that seafood only accounts for "a minor part" of its offerings, which — it stressed — also include "salads, snacks, and sushi that doesn't contain fish." Genki Sushi, a global franchise of conveyor belt sushi restaurants, told mainland customers on Weibo that it "does not source ingredients from Japan," whereas on its official Hong Kong website, the company still boasts that it "carefully selects 100% pearl rice and vinegar from Japan to prepare sushi rice that offers distinctive Japanese flavors."
But for expensive sushi spots, which typically pride themselves on sourcing from Japan to justify charging higher prices, the pivot to non-Japanese ingredients appears to be much harder.
Damien Li, a 34-year-old marketing director and self-claimed sushi connoisseur, described his recent dining experience at a popular spot for omakase sushi in Shanghai as "extremely disappointing." Drawn by the restaurant's reputation as the go-to destination for an "authentic" Japanese culinary experience in the city, Li was elated when he finally secured a table for two this past weekend, after spending almost six months trying to snatch a reservation.
"Rumors have it that many people canceled their bookings because of the wastewater release and that's how I moved up on the waitlist," he told The China Project. Given the price point, Li had high expectations going into the restaurant. However, while ambiance and service was on point, the 15-piece sashimi omakase set he had was a letdown, he said.
"Nothing was particularly bad but the overall set was underwhelming," Li said, adding that he felt "robbed" after being told that the restaurant had removed imported Japanese ingredients from the menu to — in the chef's words — "avoid controversy."
"The ebi shrimp was from Canada. The salmon was Norwegian. The eel came from Fujian," he recalled, still reeling from the regrettable dinner that cost him 2,200 yuan ($300). "Not to sound like a snob, but I could taste the difference. The quality of ingredients was not on par with some of the other omakase places I've tried that actually use Japanese stuff. There was nothing Japanese about this, other than that the chef is Japanese and I was having sushi."
While not everyone is a sushi fanatic like Damien, the Japanese dish has long been popular and ubiquitous across China. According to Dazhong Dianping, the largest restaurant review app in China, there are nearly 80,000 Japanese restaurants in the country, making the cuisine the most enjoyed foreign food among Chinese diners.
According to statistics from Japan's Fisheries Agency, mainland China is the biggest overseas market for Japanese aquatic products. Last year, Japan exported seafood worth about $600 million to the region, which accounted for 22.5% of the total, followed by Hong Kong with 20%.
As sushi restaurants in China walk away from their Japanese suppliers, the country's fishing industry is bound to feel the pinch. To help exporters withstand the slowdown in demand, Japanese Prime Minister Fumio Kishida announced Monday a 20.7 billion yen ($141 million) emergency fund designed to find new markets for Japanese seafood to replace China, and fund government purchases of seafood for temporary freezing and storage.
"We will protect the Japanese fisheries industry at all costs," Kishida said at a press conference, where he urged Japanese citizens to help out by serving more seafood at dinner tables and other places.
Meanwhile, some Japanese officials have signaled the possibility of filing a WTO complaint over China's seafood import ban, which Rahm Emanuel, the U.S. ambassador to Japan, said was something the U.S. would support.
In addition to finding alternative supplies, many sushi restaurants in China have resorted to other means to clarify their position and placate customers. In the past week, Li noticed that a growing number of sushi spots in Shanghai had put up signs to show support for Beijing's seafood ban. "Thank you China for ensuring food security for the sake of its citizens," Li recalled a poster he spotted at the entrance of a sushi restaurant in Gubei, an affluent residential area known for its large Japanese community and high density of Japanese stores.
While some restaurants expressed patriotism through words, others decided that the food they serve needs to align with their values. According to local media reports, a host of bizarre fusion dishes branded as "Chinese-style sushi" — such as roasted duck sushi, chicken feet sushi, and poached chicken sushi — have emerged in the aftermath of the wastewater controversy. A business owner in Guizhou went viral in late August after filming himself wrecking his Japanese eatery, which he said would be transformed into a Chinese restaurant.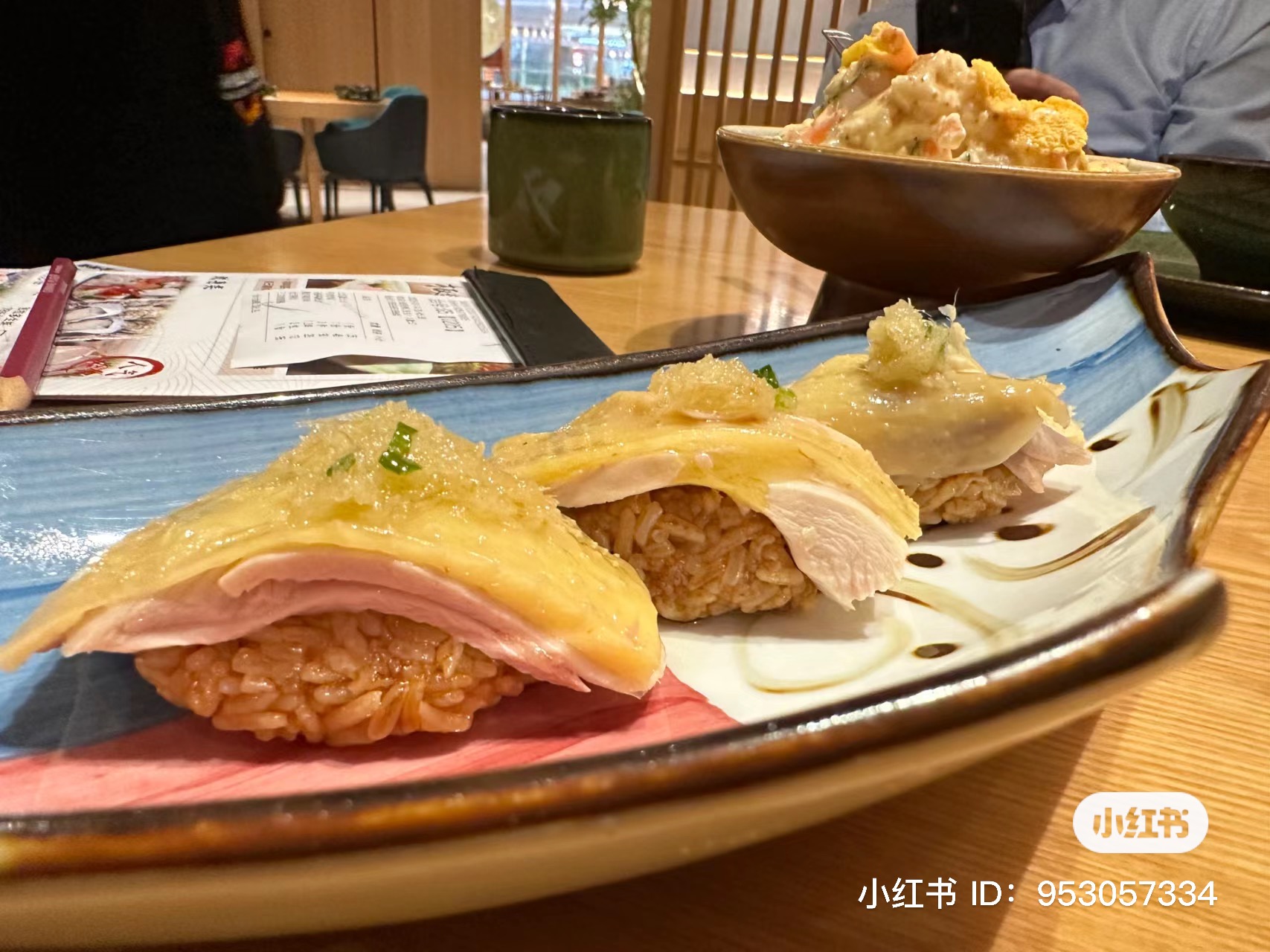 For chef Zhang, who worked as a sushi apprentice in Japan for five years before opening his restaurant in Shanghai, drastically reimagining the menu would feel like "an admission of failure," he said. "I worked very hard to get to where I am today and I can't just switch up the concept entirely overnight," adding that he's been working on a menu that highlights locally sourced fresh seafood without "sacrificing the integrity of my business."
"It's apparent that all Japanese restaurants in the country are operating in a hostile environment right now, but I've also received a great deal of support from some loyal customers who've turned into good friends of mine," he said, revealing that in private conversations, several customers told him that they thought the issue was blown out of proportion, and that they were unfazed by the widespread concerns of food safety.
Zhang believes that the fallout will blow over eventually and people will move on to the next thing to hate. "I just have to ride out this wave of animosity," he said. "I'm not ready to call it quits."