I'm a huge fan of creamy salad dressings, but I almost never use them. The bottled stuff often has an overwhelming synthetic flavor, and a lot of homemade recipes are too mayonnaise-dominant for my taste. Fortunately, there's a simple trick to add body and subtle richness to any liquid-y salad dressing: Add cooked egg yolks.

I first saw this done in a Hmong egg yolk salad dressing from C. Hawj Creations, which calls for six cooked egg yolks to make a creamy, yolky dressing. This inspired me to try yolks in my dijon vinaigrette, and the finished dressing was gorgeous. It still had all the usual flavors of the original recipe, but the fat in the yolks mellowed the acidity a smidge, and there was now a discernible velvety consistency. The dressing readily clung to the leaves of my wedge salad instead of running off and puddling underneath.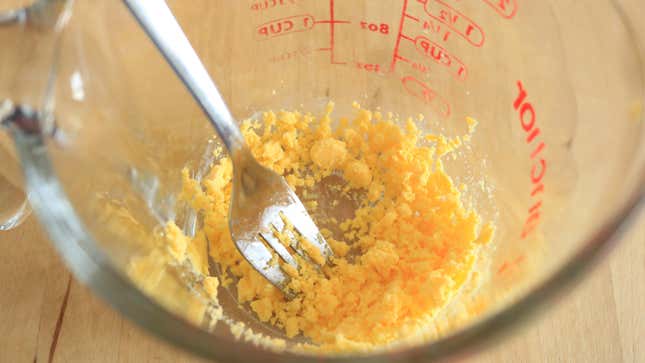 I only added two cooked egg yolks to my recipe (which yields about a half-cup of vinaigrette) and still reaped the benefits. To start, boil or steam a few eggs the way you normally would to make a hard boiled egg. Once the eggs are cooked and cooled, peel them and cut them in half. Pluck out two yolks and add them to a measuring cup. If you'd like the dressing extra thick, add more yolks. Mash up the yolks with a fork. This is easiest if your yolks are fully cooked, but I had one yolk that was leaning toward the jammy-side and it still dissolved into the dressing just fine.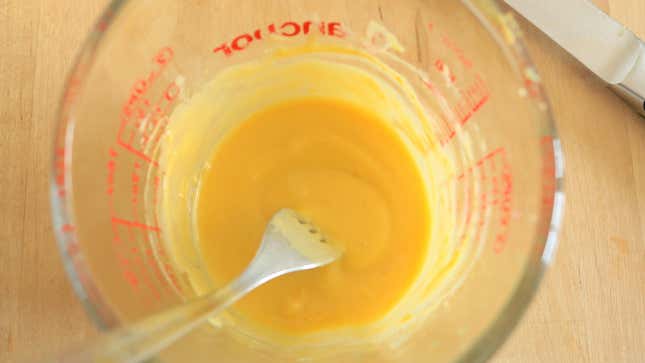 Once the yolk is broken up into small pieces, add the other components, starting with dry seasonings, then any other ingredients, starting from the smallest amounts and working your way up. I added salt, dijon, and maple syrup, then cider vinegar, and finally olive oil. You can use a fork or whisk just fine, but if you want an ultra-smooth consistency, or you're making a large batch, then you can simply add everything to a food processor and blend.

---
The dressing is simple, but boiling eggs can be tough:
---
As for the egg whites, you can drop the halves into your salad, snack on them later, or cut them up into chunks and stir them into your creamy egg yolk salad dressing like I did. The following dressing is tangy, salty, rich, and creamy without feeling greasy or heavy. It's absolutely perfect on a wedge salad.

Egg Yolk Vinaigrette
Ingredients:
2 hard-cooked egg yolks
¼ teaspoon salt
1 teaspoon dijon mustard
2 teaspoons maple syrup
2 tablespoons apple cider vinegar
¼ cup extra virgin olive oil
Break up the egg yolks in a bowl until they looks like a powder. Whisk in the next ingredients, in order until you have a smooth dressing. Alternatively, add all of the ingredients to a small food processor and blend until smooth. This recipe makes enough to comfortably dress two salads.