At their simplest, pancakes are relatively mild in flavor. Yet, somewhere down the line, this breakfast quick bread took a hard left to near dessert status. Pancake recipes vary, but most of them include one to three tablespoons of sugar per batch, and flavors that we associate with sweetness, like cinnamon, vanilla, and cocoa powder, are often added. Fillings and toppings, like chocolate chips, Nutella, and whipped cream, seal the pancake's sweet fate.
Perhaps bacon can find a place on that plate, but the real savory breakfast-lovers are out of luck with pancakes, unless we take a stand and bring pancakes back in the other direction. Be brave, and make yourself a satisfying stack of savory pancakes.

To sway your pancakes toward the salty-side, omit the small amount of granulated sugar in a standard recipe, or reduce it by half. For boxed mixes where you can't adjust the sugar, or if you enjoy a playful sweet-salty combo, leave the sugar as-is. Plain pancakes are not overwhelmingly sweet, and there's plenty of opportunity to add savory flavor regardless.
I used a just-add-water box mix to make a single batch of mixed herb pancakes. I poured one cup of dry mix into a mixing bowl, added a quarter teaspoon of fine sea salt, several grinds of black pepper, dry chives, and chopped, fresh cilantro. I gently mixed the herbs and dry ingredients and whisked in the box's instructed amount of water. I added a bit of butter to the pan and the pancaking proceeded as usual.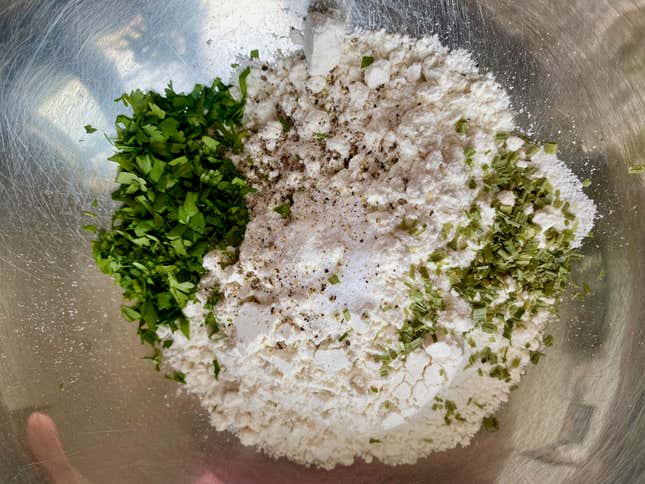 The pancakes were fluffy, well-browned, and flaunted their herbal, floral aromatics in every bite. The best part was that I could eat them with my parmesan scrambled eggs as a unified, harmonious dish instead of trying to keep them separate like I normally do with sweet pancakes. Although I chose an herb pancake, you could explore numerous directions for added ingredients. I'm looking forward to mixing in a couple teaspoons of hot sauce, or salsa macha next time. Try finely chopped dry meat, like bacon bits, or make cheesy pancakes with a sprinkle of shredded cheddar folded into the batter.

Pancake batter is relatively lightweight, so the only word of warning I'll give is to start with small measurements of finely chopped add-ins to avoid anything sinking to the bottom and burning. Stick to around two tablespoons of savory additions per batch of six- to four-inch pancakes. Otherwise, go wild. The following recipe uses a boxed mix, so there is a sweet-savory note. Try a schmear of cream cheese (or dollop of savory whipped cream) on the finished pancakes, topped with capers and lox for fancy hors d'oeuvres breakfast vibes.
Box-mix Herbed Pancakes
Ingredients:
1 cup box mix
¼ teaspoon salt
¼ teaspoon black pepper
1-2 tablespoons chopped mixed herbs
⅔ cup water
Mix the first four ingredients together in a small mixing bowl. Whisk in the water. Fry the pancakes in a frying pan over medium-low heat with butter or oil. Enjoy with eggs, salmon, cream cheese, or alone as a snack.